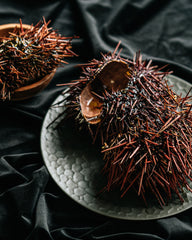 This month, the spotlight is on our fresh sea urchin, AKA uni. Ever popular in Japanese cuisine, this delicacy is now in season! 
Reasons to try (and fall in love with) uni
1. It's a sustainable seafood that is harvested locally in BC waters.
2. Loved for its unique umami flavours, We offer 2 types: Red and Green. Available in ready to eat trays of 100g (approximately 10 pieces of sea urchin roe)
Depending on availability, we also offer them in whole sea urchin sold by piece at the FISH Market locations. Curious to learn more? Read on to take a deep dive into everything uni together.
What does good quality uni taste like? 
The taste of uni depends on where it was harvested and the types of kelp in the area which it fed on. Our fresh premium grade uni has an umami-salty sweetness that tastes like the ocean, in a good way! Popular for its uniquely delicate, creamy texture, fresh uni is a delicacy that is most often enjoyed raw. Adhering to strict processing procedures and timelines, our uni is fresh and safe for raw consumption. Before you dig in, be sure to check the best by date labelled on the trays!
Ways to enjoy fresh BC uni
Our uni is ready to enjoy straight from the trays! Here are some simple ways to prepare it to elevate the experience at home:
Serve over steamed rice
Wrap in nori
Serve with Shiso or Ikura to bring out the umami flavours
How are sea urchin harvested?
Our sea urchin are sustainably harvested by hand by professional divers on the Kuroshio with Captain Dave Mcrae on the coast of British Columbia. Watch the action here. 
How long is the season?
In BC, fresh sea urchin is available as soon as the ocean temperature cools off from September to as late as April, depending on the year. Throughout the season, the changing temperature of the ocean can affect the taste of the uni in each harvest.
What is the difference between green and red sea urchin?
These 2 types of sea urchin are abundant in BC and are a sustainable seafood.
Whole green sea urchin are smaller than the reds. The size of the individual roe is usually smaller than those in the reds, but also sweeter and more decadent. Red sea urchin has a bold, rich taste and the roe are usually large.
Can't get enough of uni? Check out our collection of BC Uni products

here

, including our best selling Uni Pasta Sauc

e

!